Rust Private No Recoil Macro Script Program
Rust No Recoil Macro Script with
Artificial Intelligence
Auto Update
Up to date: New Recoil Pattern
Undetected & Secure
With Rust Private No Recoil Macro Script Program;
13

Weapon Options

"Auto Detection"

Available:
AK-47, SAR, MP5, SMG, THOMPSON, LR300, M249, Python, M39, M92, P250, Revolver, HMLMG.
Rust Macro

Is up to Date

Work with any

Sight (8x, 16x, holographic, simple)

Work with any

Attachment (muzzle boost and silencer)

Work with any

Sensitivity & DPI

Work with any

Resolution & FOV

Work with

All Mouses and All Keyboards



Auto

Weapon, Scope, Attachment

Detection
Works with

ALL Windows Versions!

Undetected

&

Secure

Customizable

Button Activate & Deactivate

Easy

Installation
After purchase you will get e-mail for

Download
How to install Rust No Recoil Macro Script ?
Fast Tutorial for No Recoil Macro App
• Support for any mouse – no matter what mouse you play on, this script will work on absolutely any, whether it is a simple office or gaming from popular manufacturers, such as A4Tech, Bloody, Logitech, Razer, Corsair, etc;
• Automatic weapon detection – the script will automatically recognize which weapon you are holding. Works at any resolution, screen aspect ratio, with any weapon skins, at any graphics and gamma settings;
• Automatic sights detection – script automatically recognizes which sight is on your weapon. Works at any resolution, screen aspect ratio, graphics and gamma settings;
• Recoil compensation for all weapons – AK-47, LR-300, MP5, Thompson, Custom SMG, M249, M39, Semi-automatic rifle, Semi-automatic pistol, M92 pistol, Python, revolver;
• Support for all sights – 8x, 16x, holographic, simple;
• Support of all attachments – muzzle boost and silencer;
• Combination sights and attachments – you can combine any sight with any attachments on any weapon, the script will adjust to your choice;
• Rage mod – full automatic weapon recoil compensation with perfect smoothing for tough game play;
• Legit mod – extra lag and worse smoothing for legit play;
• Bias Adjuster – if you wish, you can adjust the script work bias in any direction;
• Recoil Level Adjuster – you'll be able to lower the recoil control level, on either axis;
• Any sensitivity and FOV – you'll be able to adjust any sensitivity and field of view (FOV) settings you like to play at;
• Menu – You'll be able to change each setting in an easy-to-use graphical interface;
• Zoom Hack – function with which you will be able to zoom objects that are at a great distance without using additional sights, as well as look through a fog with the optional inversion of the color.
• Autosetting – the set will come with an additional program with automatic adjustment of the script to your parameters;
• Automatic mod – with this function, any semi-automatic weapon turns into an automatic weapon with the highest possible firing speed;
• Invisibility – script is completely invisible on manual checks, moderation cannot find it on your PC and there is no need to perform any computer cleanup, for which you can be blocked on mod servers;
• Panic key – when you click on this button, the launcher will completely disappear from your PC with the bypass of programs to search for recently deleted files (such as Recuva), which will help you easily pass checks on modded servers;
• Binds – you will always be able to customize your weapon and attachments switches with customizable binds;
• Shoot from the hip – this script has the ability to shoot from the hip without recoil;
• Quick click – This feature solves the problem of any scripts, you will be able to shoot with cutoffs or quick clicks without losing recoil control;
• Shooting Mode Detection – The script itself detects when you are shooting from the hip or aiming, so you can quickly switch from one shooting mode to another without changing any settings;
• Adaptation to walking – script can detect when you move back and forth, left and right and automatically adjust recoil compensation;
• Adaptation to squatting – script will detect in which position your character is, sitting or standing, to automatically adjust the correct recoil compensation;
• Sound alerts – the script has sound alerts when switching weapons or attachments, you can always turn them off;
• Graphical sight – if you wish, you can turn on the graphical sight for more comfortable shooting from the hip or from the bow;
• Brute Force Passwords – with this feature you will be able to pick up passwords to any clan base in the shortest time possible, you just have to press the bind, then the script will automatically begin to open the lock and pick all combinations in a given range, as well as show the last entered code in the interface;
• Fast lock – this function allows you to quickly set your password or log in to the castle if you live in a large clan base with lots of doors, it's also a very useful feature for online raids, when you have to enter your password in seconds;
• Anti-AFK – This function will not let you get kicked off the server for a long afk and you do not have to stand in line again, just turn it on if you are going to leave your computer for a long time;
• Spam/Flood – this fan feature is designed to piss off clans with very quick door peeps;
• Quiet Step – a feature with which you can move silently, the script itself will hit the right crouching beat;
• Hide menu – complete hiding of the menu with one button, without turning off the script, this feature will be useful if you streamer or pass the clan test on the shooting;
• Optimization – we are trying to bring the optimization to the maximum, to give the opportunity to play with scripts even on weak PCs;
• Cloud gaming – the script supports any cloud services, such as GeForce Now and others.
• No injections – our scripts never affect game files and no functions require it, all functionality is based on artificial intelligence;
• Updates – the script has automatic updates, you will always get the current version when you run it.
Exclusive, borderless, window
Streaming recording bypass:
Yes (mute and hide the menu)
Recoil Review from No Recoil Macro App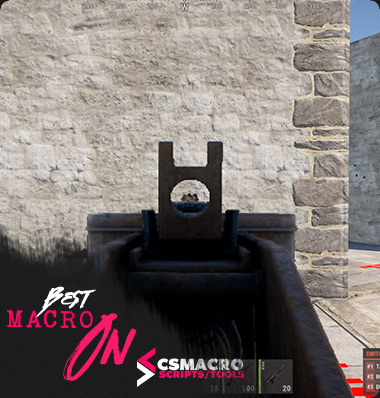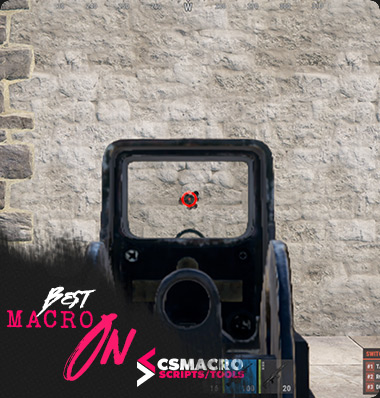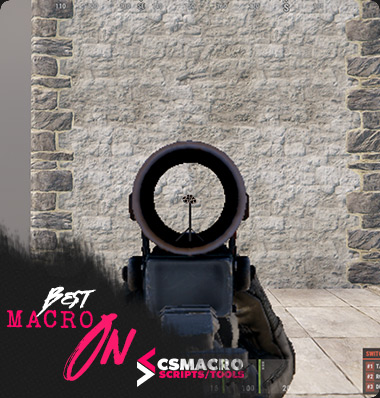 Frequently Asked Questions
Update all drivers and components
What is exactly RUST private macro script ?
Our Private Macro Recoil Script is a program which acccess your mouse to counter in-the game and reduce recoil of a specific weapons.
While you shoot your weapon in RUST for example , your crosshair automatically moves up due to recoil of the gun. As you know as a macro player you have to move your mouse in a specific way down your mouse when you make recoil yourself , this can be very hard a specially in recoil very hard like RUST. CSMACRO Private Macro Script will automatically handle the mouse movement and recoil for you and it is making your game experience easier and more enjoyable.
No Recoil macros work in RUST ?

Answer is clear , Our RUST Macro script work great and give you big advantage when you fight with your enemy , You can simply use our no recoil macro program and your weapons will automatically shoot very accurate , so it is easy to make some frag and kill your enemy. RUST No Recoil Macro Script will handle for your most hard and annoying weapon recoils for you and easily reduce the recoil in game it will improve your game play , Have you ever wondered how some big RUST Streamers and Youtubers are so accurate when they are spraying their weapons ? Alot of them are using Private Apex Macro Script .
What is the Advantages script and macros for RUST ?
We provide you best accuracy with no injections and no interaction with the game this is make us best about security and our most of good thing our private macro script work with ,
Autodetect weapons
Autodetect attachments
Additional features
RUST Script
These 3 futture very important a specially Auto Weapon Detection when you use our macro program our private macro app is automatically detect your weapons and activate macro function so you just focus your gameplay and enjoy and most good part it is autodetec even your weapon sight and scope and attachments.
Is it possible to get banned using no recoil macro script ?
Our private macro scripts % 100 Undetected , Playing RUST Anti Recoil Script is the safest way using macro because we use private build for each customers and auto download and auto update of your exe , Our Macro Engine Software and macros are never directly connect your inject your game , % 99,9 Anti Cheats like EAC don't detect no recoil macros because they can not understand if the user use mouse or a macro tool , so far so good we are the best safest way using macro for RUST.
is private macro software work with my mouse ?
Yes ! We support your hardware there is no limit or brand our private macro program work with ,
All Mouse Brands , like Logitech,Zowie,Razer,Bloody x7 , Corsair , All Mouse Models and Brands !
For sure our macro software will work fully with your setup what ever it is , Purchase and download our private macro script !
Which weapons are supported for RUST macro script ?
CSMacro.com and Aimchair.com always aim to support all meta weapons in the games we coding macros. We also play and love gaming so we do not miss any weapon , You can imagine almost all weapons supported and fully working in game with no recoil macro program do not forget we always update our macro programs and weapon recoils and send you update !